The FollowLike Share It system will help increase your SEO, Backlinks, Traffic, Social Followers, Bookmarks & Networks.
We allow you to pick and choose who you want to exchange with and skip those who you're not interested in.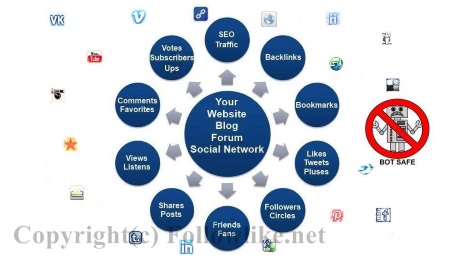 300 Coin Signup Bonus • 400 Coins Per Referral • Earn $0.15 Per Referral
We don't sell Followers, Fans, Likes or Traffic • We abide by all Social Network Policies • We don't ask for your account passwords.
Followlike is more than a Social Exchange. You can Improve your SEO, Backlinks, Traffic and Social Marketing.
We are a showcase for your Social Media and our members will like your content if they find it interestng.
You can increase Facebook Followers, Shares, Likes, Fanpages, Photos, Posts & Comments, Twitter Followers, Tweets, Re-Tweets & Favourites, Youtube Views, Subscribers, Likes, Favourites & Comments, Google Plus Ones, Circles and Shares, Pinterest Followers, Pins, Re-Pins & Likes, Instagram Followers, Likes and Comments, VK Followers, Likes and Comments, Soundcloud Follows, Listeners, Favorites & Comments, Stumbleupon Followers, Submits, Likes & Comments, Tumblr Followers, Posts & Photo Posts, Myspace Friends, Delicious Followers & Saves, Website Hits, Banner & Text Ads, LinkedIn Shares, Reverbnation Fans, Diigo Followers & Bookmarks, Vimeo Followers, Likes & Comments, FriendFeed Subscribers, Likes & Comments, Bloggers Followers, Post Likes & Blog Follows, Reddit Submits & UP Votes, Flickr Followers, Favorites and Comments and more. FollowLike Share It is neither affiliated with nor endorsed by Twitter, Facebook, MySpace, Diigo, Reddit, StumbleUpon, Google, YouTube, Pinterest, Delicious, Reverbnation, Soundcloud, Tumblr, Linkedin, Vimeo, Fark, Bloggers, Friendfeed, Chime, Dzone, Buzzfeed, Clipboard or any other Social Network or Bookmarking Site.